Wed 04/08/10 14:05
It really is a great city
So I'm in Amsterdam today. I got in yesterday morning about 5am and pretty much have spent the last two days just wandering around the city. There's a lot to say, I mean, I've heard all these stories all my life about Amsterdam. I think the things that come to mind when the word "Amsterdam" brings up images of drugs and "red light." I may be a little bit weird, but I think that's Amsterdam's reputation.
First of all I have to say that Amsterdam is probably the best city I've been in in a couple of years. I'm not really sure why, maybe it's the sense of freedom which is so refreshing, or maybe it's the architecture with its narrow buildings packed in so close to each other, there's also the canals, which seem to give the city a little bit of a sparkle over other cities. All those listed items give the city a unique, if not great, feel. There's also the bit about Amsterdam's reputation too. The first that stands out is the red-light district. Now I don't really get surprised very often, and when I do I usually enjoy the experience. The first day I was here, I was just walking around exploring the city and I looked across the canal and saw a woman dressed in a bathing suit on display in a storefront. Now, I don't know if the term storefront is correct, it's more like just a window, but since I've been here, I've been caught of guard several times by these women in the windows. A few times I'd just be walking around and go down an alley and the next thing that I see is a body in a window, and when she sees me, she starts tapping on the glass. It's kind of embarrassing to be caught off guard like that. In almost every situation I thought it was a mannequin until it moved (and usually tapped on the glass to get my attention.) I don't know how best to express it, but the word that comes to mind is that it's "refreshing" to be someplace that doesn't have the hang-ups about sex like the U.S. or Dubai.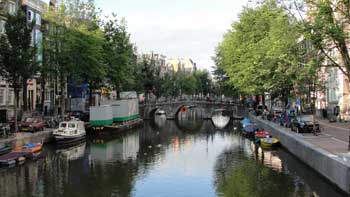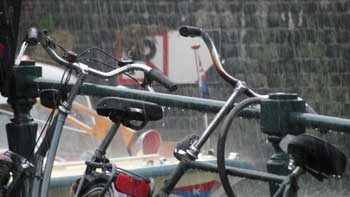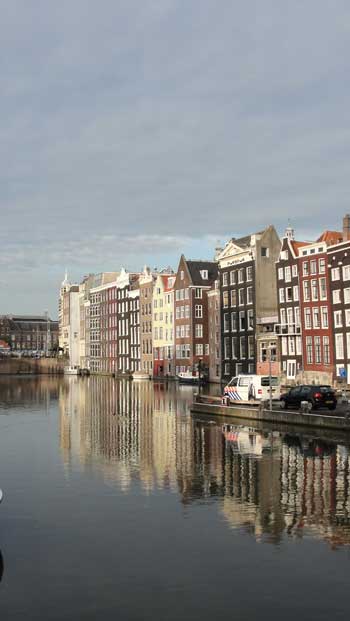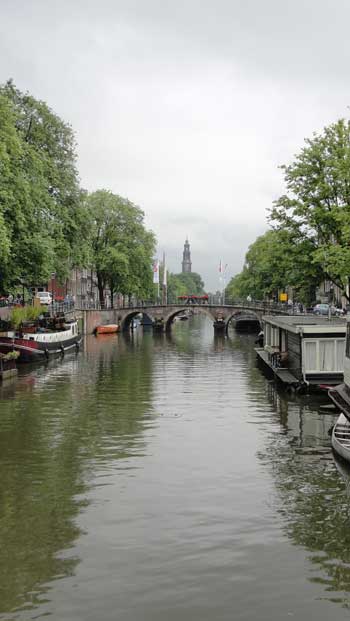 There are headshops all over the place here, and once in a while as you're walking around you can smell the recognizable smell of weed. Even after being here for two days when I smell it, it kind of startles me that people are smoking it in public. I don't know if you can buy it here, but it's definitely refreshing to be somewhere that allows the individual to choose for themselves what they want to do.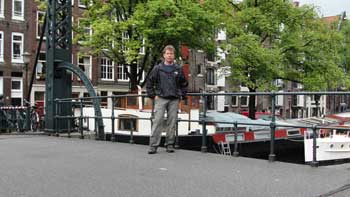 Another thing that I feel I have to say about Amsterdam is the bikes. I have never been to a place that people ride bikes as much as they do here. Trust me when I say they take their bicycles seriously, more than the Chinese or Vietnamese. There are three lanes to every street here, one for cars, one for bikes, and one for pedestrians.
This morning it was pretty gloomy out. When I woke up at about 8 it was overcast and cool. My bed in the hostel overlooks the main street in the old part of town, so the first thing that I saw was people all bundled up when I looked out the window. By the time that I got cleaned up and ready to leave, the rain had started. It started with just a drizzle, but then turned to rain, and not long after it was pretty much storming. It rained so hard that even though I had a rain jacket and umbrella I needed to find shelter under a bridge to keep dry. It was the first time since I left the states three years ago that I'd seen rain like that. For the most part though I weathered the weather well enough and didn't head back to the hostel until about 4. By then I was drenched, tired, and needed a break. It wasn't long, maybe an hour or so, before I went back out.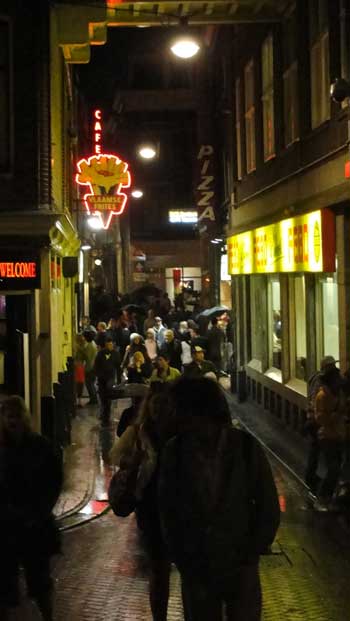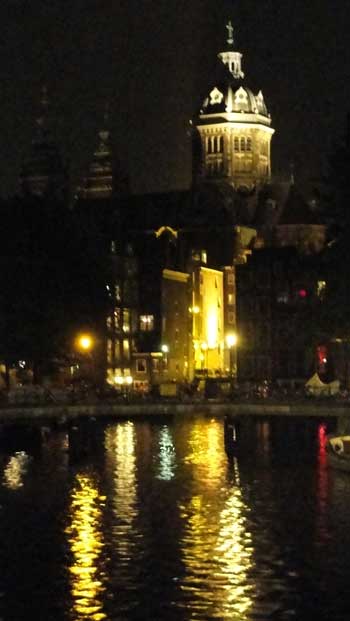 My basic thoughts on Amsterdam are good. Like I mentioned it's one of the best cities that I've been to for various reasons, but it does have a downside though besides the weather, and that is it's expensive. Way too expensive to want to stay any longer than a couple of nights.