Wed 02/01/13 23:53
actually, I am just killing time
I had a pretty simple plan today, all I had to do was waste enough time to not get to the airport too early. Being too early to the airport has some distinct disadvantages compared to just killing time before you get to the airport. For one, when you're at the airport early, you are unable to check in so you're stuck lugging your bags around. Two, it always seems like it would be better to be earlier than on time, just in case you can get checked in and get a window seat. Unfortunately check in never opens until three hours before the flight and then you're stuck wandering the concourses trying to find something interesting to do. Trust me, usually less than an hour will do if you're on your own. Third, you always end up falling back on technology to kill your extra time. The problem that you usually face is that a phone or computer needs to get charged at some point. This means that you end up sitting in some weird place in the airport with your computer plugged in to some out of the way plugin. You try to hide into the woodwork just because you're not sure if it's okay to suck up some free electricity, and finally you wonder if that figure out of the corner of your eye is coming to tell you to move along.
Guess what I'm doing right now. If you read the first paragraph then you know exactly what I'm doing. ☺ I got here more than six hours before my flight, three before I can officially check in and drop off my bags. I did take some time and check in online—the first time ever—and managed to get the last window seat on the plane. I was so surprised and thankful that I scored a window seat.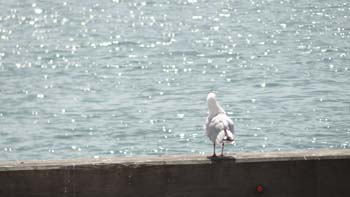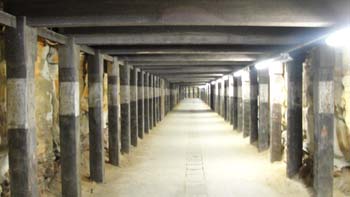 Today was a kind of fun day. It started with a quick run to Starbucks and then to the Sidney harbor. I'm not sure why I picked that location except it just seemed to be a normal starting place for a tourist. With pretty much the whole day free I decided to take a ferry to Cockatoo Island. I didn't know anything about the island, and with a name like that who knows, maybe there are lots of cockatiels there. I was pleased when I got off the ferry to see that it was a museum of sorts. I guess the best comparison would be Alcatraz to San Francisco in that it is probably the same distance away and was used as a prison, among other things. It took about 2 hours to walk around the island and for the most part it was interesting. The island had been used for pretty much everything, from a prison to a shipyard. Most of the buildings that were left after the island was closed were straight out of the first part of the 20th century, big hangar type buildings with many of the lathes and winches that were used. I found no problem imagining what it must have been like to work there.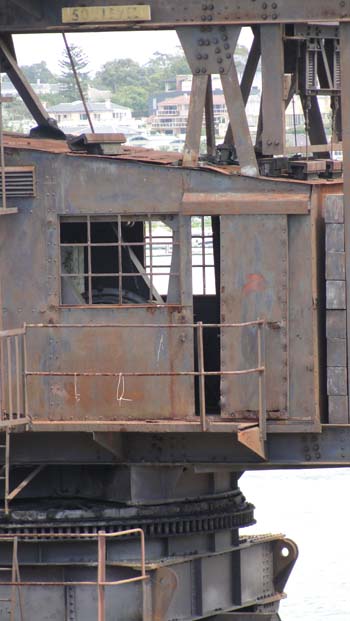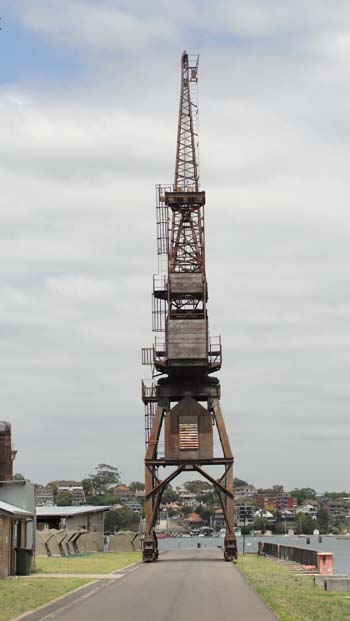 Probably the most interesting thing was that I got attacked by vicious man eating sea gulls, I guess because I got too close to their hatchlings. There was something about me that they didn't like, and I couldn't figure it out, but they would attack me and leave other wanderers alone. Maybe it was some sort of anti-American sentiment that drove them with such hate. At one point I wanted to walk down this path but I had been attacked earlier, and from my vantage point I could see there were too many sea gulls just sitting around, so I decided not to take the chance. That was until from behind some trees I see this guy walking around with his camera, the blood letting was going to be horrific once the gulls saw him, but he walked right along the path, that same path I just minutes before I had decided was going to be too dangerous for me. So cool, he walked on past with barely a squawk from the birds, so I thought it would be safe for me. As soon as I got close to the path the squawks started up, once I got on the path one very aggressive gull went at me. A few others took flight too, my guess they were the back up if I managed to get free of the first one. My defense was to grab for my hat. It had worked before that when I took my hat off, the gulls veered away from me. Anyway, I kept walking and managed to make it to freedom, but I didn't take any more chances from then on.
My adventurism quenched for the day I went to find some place to buy a souvenir and get some lunch. The rest of the time was wandering around trying to walk slowly, trying to find something to occupy me for a few more minutes. I even went so far as to repack my backpacks, change clothes, and clean up a little. That brings me to where I am now, more than three hours early to the airport sitting on my backpack, computer plugged into an outlet under some phone booths, and trying to look as in