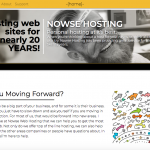 So I thought I'd take a moment to give an update to the sites that I've been working on. The good news first? Or the bad news? Okay, the good news. Well, I finished the hosting site I was working on, nowse hosting, I really shouldn't say that it's done in the complete, I'll never mess with it, kind of sense. I still need to put in a shopping cart for purchases. I held off because I don't have a permanent address right now and all the payment processors require and address. Besides, if I'm being real, I'm sick of working on it.
The bad news? The other day I was taking a break from the hosting site and decided that I'd finish this site. I wrote a post about fixing some of the problem I had with it. Well, I fixed everything that I could tell was wrong and uploaded the finalized pages. All good until you go to the blog. It's all jacked up. I spent about six hours trying to fix it and no luck. There's a conflict between the css in my regular site and the blog. I kind of know what's wrong, but I'm not really sure how to fix it. I was trying to be clever yesterday and find some work around, but I think I'm going to have to dive in and redo the blog's template. The thought of it just makes me cringe. It will be probably a two or three day job.
Back to the good news. The hosting site is based on the same designs that I've been doing for the last few years. Big header, responsive design, and kind of big. This time though I decided to use illustrations instead of photos for much of the design and I'm really liking it. It's the first time I've done it and I'm kind of proud of myself. The illustrations are child-like and fun, but I think that they work.
If you've got the time and want to give me some advice on the design, or anything else, the actual address is, http://www.nowse-hosting.com One thing that I'm starting not like is my use of shadows in some of the cards. I'll leave it for now though. I'm so burned out on it that I don't think I could sit for another hour.