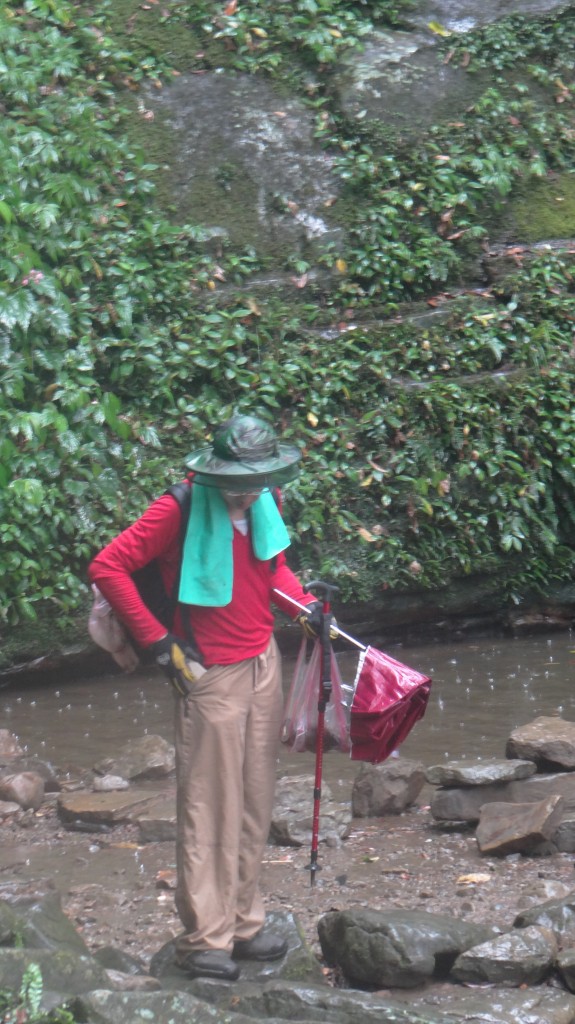 I've been a member of Meetup.com for about two weeks. When I first discovered it, I thought that I'd be busy all the time doing all sorts of fun stuff. That's not really what happened though. Maybe I was getting picky or trying too hard to find the perfect event, but after the first 'hike' about two weeks ago I was hard pressed to find anything fun to do. That's not exactly true, there was one that I signed up for that is going to happen tomorrow, and there was a couple that I waited too long to sign up for and subsequently was full by the time I decided. So when I got an email that said that a hiking trip to a waterfall was planned for the next day, I jumped on it. It sounded perfect, a hike along a river that ended at a waterfall.
There were only three of us that showed for the adventure, but that was okay. I don't like huge crowds and I like to move fairly quickly on a hike, and that can be difficult with too many people.
The beginning of the trail started pretty mellow. We got off the bus and crossed the street to a road that led up the hill. Eventually the road ended and we were left with stairs that led up to a temple. As we got up to the temple there was a monk that greeted us in Chinese and told us to be careful. (thinking back, that was like the beginning of a bad horror movie. You know where the local makes a point to the uncaring hikers to, "Be careful." ) From that point, at the temple is where the hike actually was beginning.
The climb started with stairs then quickly entered a true path. The path varied between easily passable to moderately difficult, and sometimes it was hard to tell where the path was at all. It was very hot and humid and during the majority of the trek we were in dense jungle. Within a few minutes I was sweating pretty hard and within an hour I was seriously wondering if I was going to make it to the end.
When we started we inadvertently took the wrong path and ended up doing a loop back to where we began, which was just above the temple. This mistake put us behind about an hour and sapped valuable strength, so we stopped for a rest. At this point is where I started to question my resolve to finish the hike. I didn't really explain, but the hike was pretty much climbing a mountain by using a winding trail and at the very beginning of the trail, stairs. To give you an example, in that hour loop that we did according to my gps we actually traveled about .6 miles. That really surprised me, because we kept moving the whole time and in an hour we didn't even travel one mile.
So after a little break we headed back up the mountain again, but this time on the correct path. When we got to the top and trying to determine which way to go, one of the guys that was on the hike decided that he had had enough. He just was too tired to continue and wanted to go home. Although I was slightly displeased with him, there was a side of me that was thinking the same way, it would be nice just to go somewhere and sit down, preferably with a cold drink.
The whole hike was supposed to be about 6km. We started at 10am and we planned on finishing by 3. Those 6km though actually took us two and a half hours longer. It wasn't until 5:30 did we emerged onto a road that wound it's way to the city below.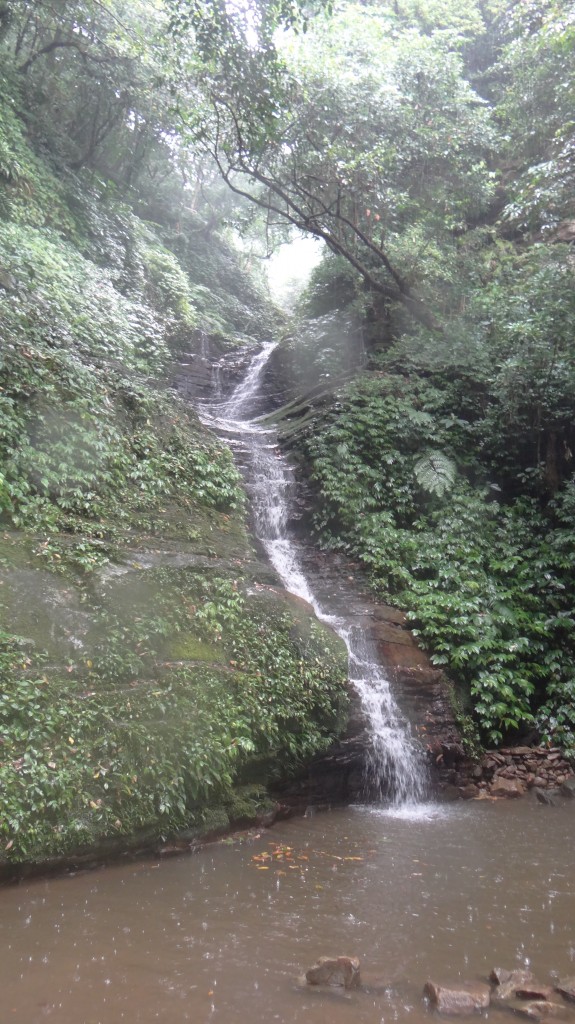 Along the way I fell three times and surprisingly didn't get hurt at all. When I say fell I mean, actually falling, not slipping, but falling on my butt. At one point I reached for a handhold and grabbed a plant that has thousands of thorns all over it. We had to stop for a few minutes while I tried to remove all the thorns from my hand. Even right now, the day after, my hand is cut up from that 'smooth maneuver.' Then, after trekking for about four hours it started to rain very hard. It started when we were at the second highest point on the trail and continued for about an hour. Normally this would be just a slight discomfort, but the trail was a continuous up and down trek, and the trail had many large river rocks along the way. To sum up, it was raining very hard and I didn't have an umbrella or rain jacket, and I spent most of the time trying so hard not to slip on the smooth and wet rocks.
When we finally made it to the waterfall, I was completely spent. So much that the view of the waterfall, although beautiful, was more appreciated because it meant the trek was over.
In the end it was the most challenging hikes I've been on. If it hadn't been for the rain, I think the hike wouldn't have been as challenging, but when you are climbing down smooth rocks with no handholds, the rain added a higher level of difficulty.
Tomorrow I go on another hike.