Thu 08/01/09 05:34
We got into Hanoi early in the morning, and stored our bags before we headed out to take a cruise to see the Ha Long Islands… This cruise isn't part of the tour but we all wanted to see them, so as a group we hired a driver and headed to the coast. I don't know if anyone reading this entry will be familiar with the Ha Long Islands, but my guess is that most people have seen them, or seen something very familiar. The best way to describe them is that there are thousands of jungle covered rocks, or islands, off the coast. They're very beautiful, so beautiful, that there is a push to get them included in the list of the Natural Wonders of the World, along side such landmarks as the Grand Canyon. I can't say that they are awe-inspiring, but they are very beautiful. Our drive took about three hours and through what seemed like one large suburb of Hanoi. I, like always fell asleep shortly after leaving Hanoi so I didn't see all the sights. When we got there, we boarded about a 50 ft. day-cruiser and headed out. The boat was large and very nice, two decks one enclosed for eating and one on top for seeing the sights. There was something so special to be on this large boat with only nine other people, that made the visit even better. The whole cruise took about 3 hours, we made our way out to a cave and took a hike through it, then we found a sheltered area and had lunch. It was about an eight-course meal which included, squid, prawns, spring rolls, fruit, and some other things that I can't remember right now. After lunch we went deeper in the islands and found a more sheltered area where we could swim. I say "we" but I should say, "some of the people on the tour" because I feel very self-conscious being half naked in front of people… Don't ask me why, I just do. So some of the guys went swimming. After the swim the boat headed back to the dock.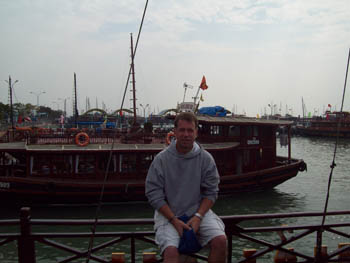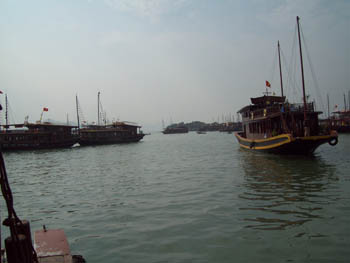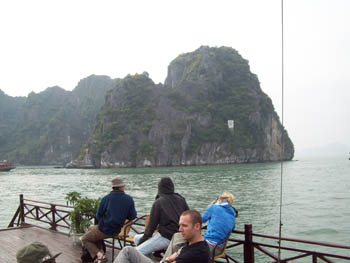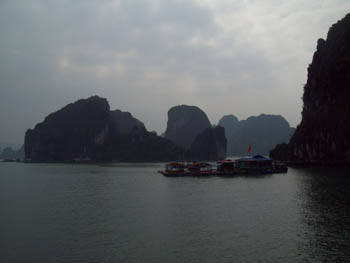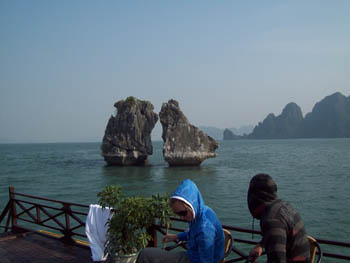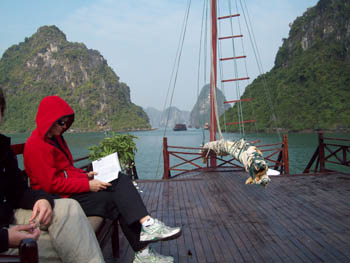 It took us about three hours to get back to the hotel, and like always, I slept part of the way. I was awake though to see a dog running all out down the street. I mean this dog was yelping and running as fast as it could, occasionally looking back. It was a strange sight to see, and it didn't quite make sense until I saw some people carrying a guy to the sidewalk. He was obviously dazed and confused, and then it made sense, the dog must have been hit by the guy and his motorcycle. For some reason it seems funny now looking back.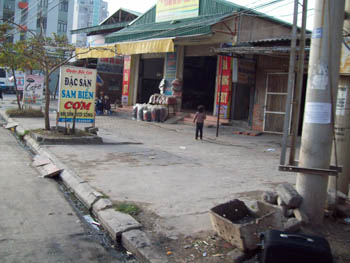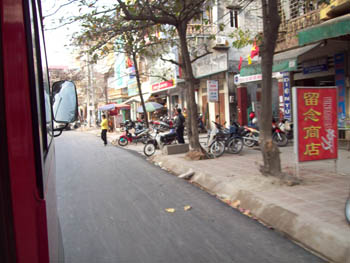 That night was the last night of the tour so there was kind of a solemn air to the evening, our last dinner together as a group. We had dinner and headed to a bar that overlooks the city. After that, I headed back to the hotel with some of the other group, while others were going to go drinking. I wanted to go drinking, but decided against it for personal reasons.